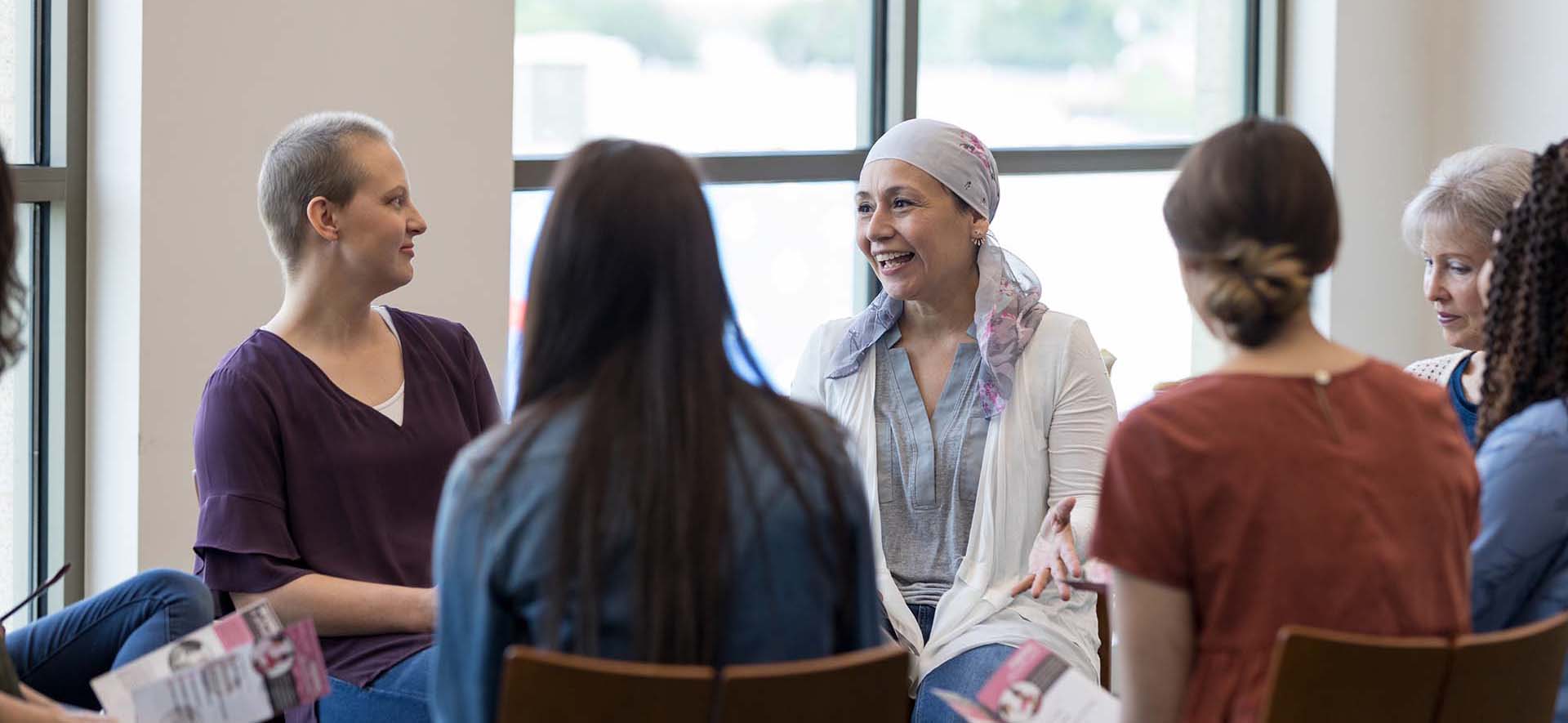 A cancer diagnosis can be a devastating event for patients and families, but it doesn't have to be.
The Donald W. Reynolds Cancer Support House offers a variety of patient support, supplies, and services that will help survivors and caregivers face this battle with a fresh new perspective.
Helping Survivors Fight Back
At the Donald W. Reynolds Cancer Support House, survivorship is our number one priority. If you or your loved one has been diagnosed with cancer, we are here to help. When you come into the Support House for the first time, you will find yourself in comfortable surroundings being greeted by the warm smile of a new friend. Please take some time to browse through our services and support section to read more about our programs, then come by and get registered.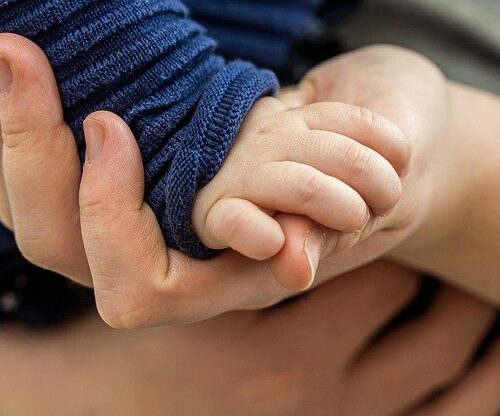 Patient Navigation
The Support House Patient Navigators are trained to provide compassionate care that removes or reduces the many barriers to care. Our programs focus on the patient's psychological/emotional, social, physical, and financial well-being with a variety of cost-free services and programs. We are committed to serving the patient - from diagnosis throughout their life.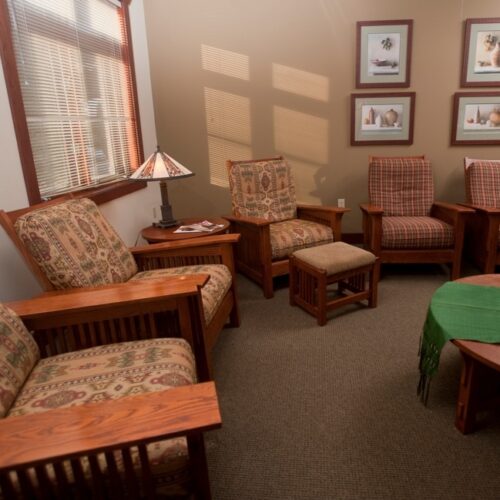 Support Groups offer cancer patients the opportunity to interact, comfort, and encourage one another, and provide emotional support after diagnosis.
We offer a wide variety of Support Groups and Creative Classes for Men, Women, and Adolescents. These Support Groups and Classes are open to cancer fighters, survivors, co-survivors, and caregivers.
All Groups and Classes are held at the Reynolds Cancer Support House, 3324 South M Street unless otherwise noted. Emotional groups are led by a licensed mental health professional.
Monday
11:00 a.m. – (4th Mondays) Men's Peer to Peer Support Group
5:00 p.m. –(1st and 3rd Mondays) Women's Breast Cancer Support Group
5:00 p.m. – (2nd & 4th Mondays) Kids Kicking Cancer – Support Group for adolescents aged 7-17. Open to children with a cancer diagnosis and their siblings or children who have a parent/guardian with a cancer diagnosis.
5:00 p.m. – (2nd Monday) Moms Kicking Cancer – Support Group for Moms whose children attend the Kids Kicking Cancer Program.
5:00 p.m. – (4th Monday) Dads Kicking Cancer – Support Group for Dads whose children attend the Kids Kicking Cancer Program.
Tuesday
10:00 a.m. - "Knit Wits" - Knitting Group
5:00 p.m. – (1st & 3rd Tuesdays) Women's Mixed Diagnosis Cancer Support Group – For adult women with all cancer diagnoses.
6:00 p.m. – (1st & 3rd Tuesdays) Women's Breast Cancer Support Group – A group for adult women with a breast cancer diagnosis.
Wednesday

10:30 a.m. – Beginners Yoga Class
Thursday

1:30 p.m. - Quilters Group
*Mentorship support is available to cancer fighters who are looking to connect one-one with someone who has already faced the cancer journey and can share personal experiences. Mentor matches are facilitated by a licensed professional.
Wigs, hats, scarves & turbans: These supplies and fittings are offered to patients who experience hair loss during treatment.
Patients are treated to a private fitting session in the House's professional beauty salon. The salon is open during House office hours and no appointment is necessary.
Mary Kay Miracle Sets: The Cancer Support House is proud to partner with Debbie Hocott, Senior VP at Mary Kay Cosmetics, in providing moisturizing Miracle Sets for patients who experience dry skin during treatment. You'll receive a set when you register with us.

Hair Donations – If you are interested in donating hair, we recommend WigsforKids.org. The Reynolds Cancer Support House no longer accepts hair donations.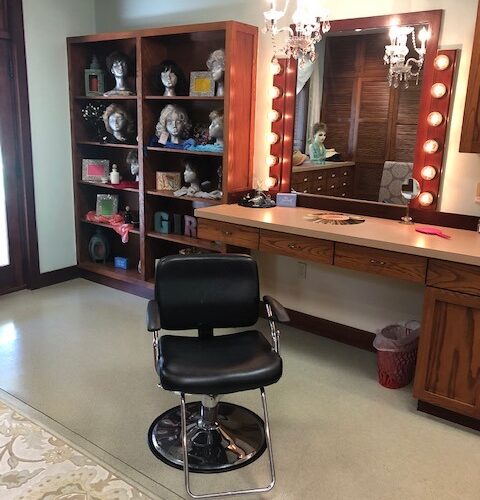 Nutritional Support
Cancer patients often have a multitude of nutritional issues. According to the American Cancer Society, when you're healthy, eating enough food to get the nutrients and calories you need is not usually a problem. The Support House can assist with the increased nutritional needs during treatment. Please ask a staff member or volunteer about available nutritional support.
The Support House also partners with the Community Services Clearinghouse in providing food to cancer patients during treatment. Please ask a staff member or volunteer about enrolling in the Food Voucher program.
Financial Assistance
As a nonprofit organization, funding depends on the sources of support we receive at any given time. If we do not currently have funding to assist you, our patient navigators will always work to refer you to other financial assistance resources. Our in-house patient navigators can assist cancer patients at any point in their journey. Call (479)782-6302 for more information.
To register for a support group, class, or mentorship match or be connected to a buddy, please come visit us or call (479)782-6302 or (800)262-9917.
Transportation Assistance
Assisting cancer patients with their transportation needs during treatment has been a mission of The Support House since we were organized in 1978. Fort Smith is surrounded by many rural communities and is the central hub for cancer treatment with two cancer treatment centers. We also see many local patients referred for treatment to cancer treatment facilities outside of the River Valley. These two things pose issues for those patients who must travel, sometimes daily, for the treatment depending on their treatment protocol. When funding is available, we can provide qualifying patients with transportation assistance. We also partner with the Fort Smith Transit System to provide local patients with no-cost bus passes to get to and from treatment.
Expanding Services through Area Partnerships
The Reynolds Cancer Support House serves as a centralized resource hub for survivors and families in Western Arkansas and Eastern Oklahoma. In addition to the services and support we provide; we have strong relationships with other non-profits and healthcare providers. Some examples of these valuable partnerships include the Arkansas Cancer Coalition, River Valley Ovarian Cancer Alliance, River Valley Skin Cancer Alliance, River Valley Food Bank, Community Services Clearinghouse, Arkansas Prostate Cancer Foundation, We Care Foundation, Hearts & Homes, and various churches and other local non-profits.